On Sunday, five of us housemates went to Piper Mountain Christmas Trees in Newburgh to find a tree (and get out of the house). It was a perfect tree hunting day — the air was crisp and the sky was clear.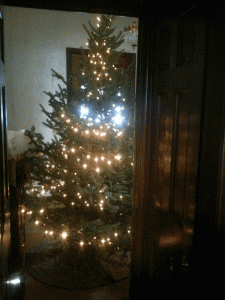 The tree was picked in short order and stuffed neatly into the bed of the pickup. The trip home, via backgrounds in Newburgh, was more interesting than the Christmas tree hunt. Newburgh, at least where we were, had fantastic, well paved roads. The evidence of mixed money and poverty was abundant. Perhaps it's naive, but it seemed like only in Maine could there be such a clear contrast between living situations within a thousand feet.
When we returned home, the tree was ready for its new home in the foyer.